IHE-Services has 10 years of experience in customising interoperability testing of health IT systems for hospitals, regional and national eHealth networks, as well as vendors developing new software platforms.
Testing interoperability to exchange and to share medical information presents a major challenge for health IT systems. Exchanging or sharing medical information, whether within a hospital, across regional health IT projects or within national networks, requires unique expertise and competencies often beyond the experience of deployment teams.
Built-to-Purpose Testing
A dedicated operation within the non-profit association IHE-Europe, IHE-Services offers customised testing for health IT system interoperability. IHE-Services organises test sessions and develops interoperability test tools, leveraging more than 10 years of experience in these domains and drawing on the experience of a community of hundreds of system implementers around the world.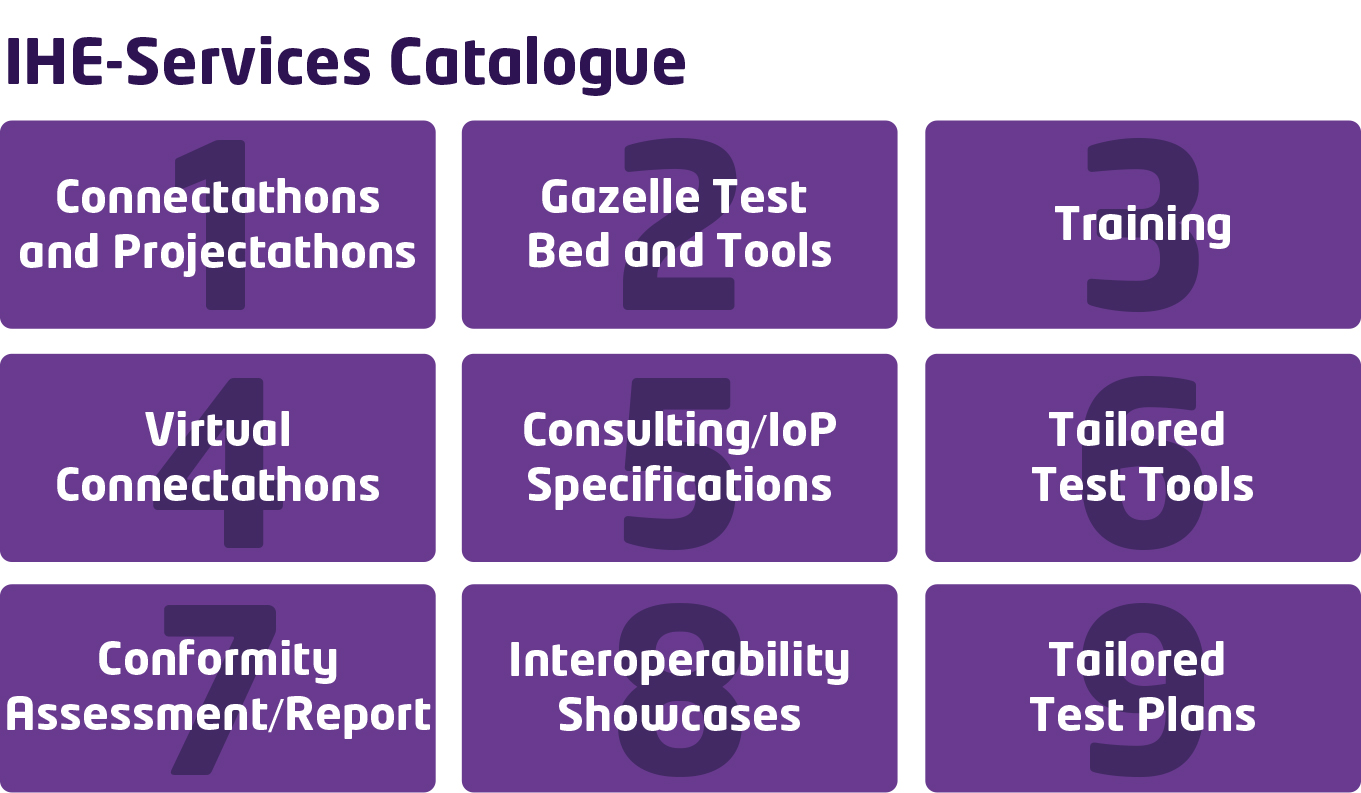 IHE-Services offers a unique suite of tools and services to its clients. Developed for the annual IHE European Connectathon, these services allow specific projects to complement the product testing performed at the IHE Connectathon and include:
The Gazelle management software that supervises and coordinates testing activities.
Unique interoperability test engines for DICOM, XML, HL7 and IHE Integration Profiles.
Simulators for online or virtual testing
Technical project management and results reporting services to organise and manage special-purpose interoperability testing events.
Each service can be tailored to specific needs.
IHE-Services maintains a validated enterprise edition of Gazelle for its customers both as an in-house deployment or as cloud-based services to its customers.
 
Partners in IHE Deployment
IHE-Services supports eHealth regional or national project authorities, companies and healthcare providers during procurement, development & deployment of IHE standards-based interoperability solutions. IHE-Services builds trust and improves interoperability for eHealth solutions by customised interoperability verification and conformance testing.
 
IHE-Services Experts Registry
IHE-Services has called the wider IHE and eHealth community of experts, asking for their interest to join the team that is making healthcare interoperable and providing a better response to the booming adoption of IHE Profiles by operational deployments.
 
This new process is being introduced to encourage interested and suitably qualified experts to be formally engaged with IHE-Services. It will take place annually and has begun with an open call for interested parties to place an expression of interest to join the IHE-Services Experts Registry. 
 
Get Connected with IHE-Services
Join the growing ecosystem of partners built around IHE-Services. Participating members help shape the development of health IT interoperability and gain significant benefits.
For more information contact us.