IHE offers a set of tools to help developers of Health IT Systems implement IHE Profiles and also prepare for Connectathons. These tools have been developed by many organisations across the globe. (See more).
The Gazelle platform utilises a set of open-source tools (Developed under the Apache 2.0 license) maintained by IHE Services, they also provide additional value added services for the enterprise edition of IHE Gazelle.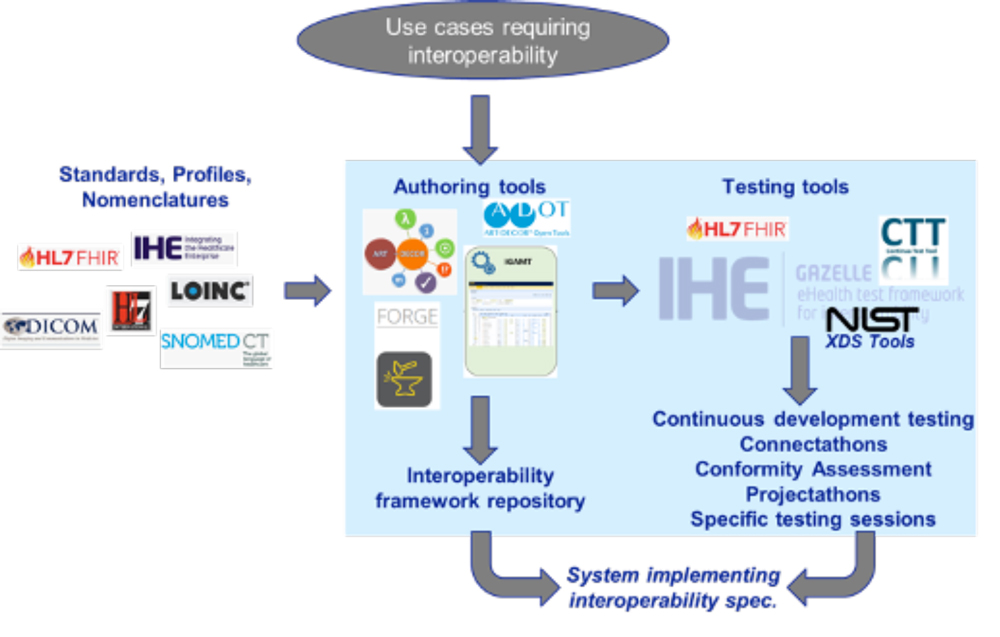 IHE Gazelle has evolved into an ecosystem of integrated tools, following the GITB processes that include
The IHE Gazelle management software that supervises and coordinates testing activities and events, like Connectathons and Projectathons.

Unique interoperability test engines for DICOM, XML, HL7, OASIS, IETF and IHE Integration Profiles.

Simulators for online, or virtual testing.

Technical project management and results reporting services to organise and manage special-purpose interoperability testing events.

Test plan repositories and management.

Management of validation tools (External Validation Service – EVS tool) and specification compliance (assertion manager) for a multitude of documents, messages, security tokens, etc.
IHE-Europe and IHE Services contribute substantial resources to the Gazelle Open Source software development community. This Gazelle platform is developed under the ISO 17025 quality system (same level of quality as ISO 9001).
Gazelle has been twice renewed since 2015 to allow a solid and continuous adherence to new technologies and programming techniques. Currently Gazelle is integrating new tools to be presented in the next Connectathon including:
New valdators and simulators for HL7 FHIR testing, based on the recent new IHE Profiles that are HL7 FHIR-enalbed.

Support of cross validation testing, group and end-to-end testing.

Support of national programmes and initiatives such as in France, Greece, Switzerland and the USA.

Integration of the Continua testing tools (integration of both PCHA and IHE Integration Profiles)
The Gazelle team is also working to add a communication management tool, Rocket Chat, in order to improve exchanges between participants, the technical team and the monitors both before and during an online event, such as the upcoming IHE-Europe Connectathon.
Don't miss the opportunity to have a hands-on view of the new Gazelle developments. Join us at the planned online Connectathons in November 2020 and March 2021.
Information on Gazelle: https://gazelle.ihe.net/content/tools