Have you ever wanted to make sure an application can consume and display medical images coming from a variety of sources and from different vendors? 

What if vendors were able to perform this testing easily before products were released to the market?

To address this important need, IHE is introducing a new test service, called IHE SHARAZONE.
The IHE SHARAZONE is a distinct, continuous DICOM object interoperability test offering, complementing the IHE Connectathon. It uses a legal framework similar to that of the IHE Connectathon to support this continuous DICOM object interoperability testing between vendors. The IHE SHARAZONE concept is built on existing, well-proven tooling: a dedicated Gazelle capability which is available globally, 24/7 to registered vendors for selecting shared objects of interest and report testing results to the creators of these objects.
NEW
We are pleased to announce the publication of a paper in the Journal of Digital Imaging (JDI) that describes our initial experience with IHE SHARAZONE:
Initial Experience of 10 Imaging Vendors with the IHE SHARAZONE: a New Multivendor Peer-to-Peer Test Service for DICOM Objects
Alongside the published version, a pre-print version of the paper is also accessible for reference and consultation.
Learn more about IHE SHARAZONE in the VIDEOS of the Grand Launch: Overview session and Technical session held on 22 October 2021 and in the Overview presentation (PDF format).
Following the pilot testing by the 10 founding member vendors, the IHE SHARAZONE Registration is now open to all vendors.
The following vendors are currently participating: Agfa Healthcare*, Agfa Radiology Solutions, AZmed, Carl Zeiss Meditec*, Delphinus Medical Technologies, Inc., GE Healthcare*, Gentuity,  MedicalCommunications*, OLYMPUS EUROPA*, Seno Medical, Siemens Healthineers*, synedra information technologies*, VISUS Health IT*.
*Founding members
"The IHE SHARAZONE pilot phase provided us with the opportunity to test established as well as novel DICOM features. In a professional and cooperative environment, we were able to solve any issue that might arise directly with other IHE SHARAZONE participants. Last, but not least, IHE provides helpful tools for both test management and vendor communication."

Synedra IT, Martin Großhauser
 

"For an Enterprise Imaging vendor like us, IHE SHARAZONE offers a very valuable test service. It allows us to continuously test all types of DICOM images, videos and their associated objects. That way, any new type of DICOM object that is proposed by the Creator participants is thoroughly tested and potential interoperability gaps are fixed, before it is deployed at healthcare provider sites."

Agfa HealthCare, Bruno Laffin, V&V Connectivity Team Lead

"With IHE SHARAZONE, IHE offers an outstanding framework and robust platform for testing DICOM object interoperability between medical imaging products of different vendors. We are convinced that this offering is an excellent opportunity to collaborate to improve the quality of healthcare through better interoperability of medical imaging products."

Carl Zeiss Meditec, Janna Lingenfelder, Head of Interoperability and Data Quality

"We've been part of IHE SHARAZONE through a very engaging co-learning and testing environment where participants can collaborate easily and smoothly. Especially our Head of Product Management Office, Francis do Rego, has been very active in collaborating with his peers in providing the right support.  We can strongly recommend MedTech companies with a focus on interoperability to join IHE SHARAZONE."

OLYMPUS EUROPA, Engin Demirel, EMEA Head of Product Mgt, Marketing and Sales 
 

"IHE SHARAZONE turns out to be a very effective means as a creator to get quick and profound feedback from the other participants about appropriateness and compatibility of the created/uploaded DICOM objects. As a consumer, IHE SHARAZONE enables you to get early access to DICOM instances based on the newest enhancements of the standard to prepare your products to deal with them properly."

Siemens Healthcare, Till Hoenig, Computed Tomography
 

"IHE SHARAZONE is a great opportunity to test, as an addition to the IHE Connectathons, our products directly with other vendors.
We enjoy the ability to continuously test the interoperability of DICOM objects with other IHE SHARAZONE participants."

MedicalCommunications, Alexander Gogol

"The IHE SHARAZONE enables us to stay continuously in contact with a broad mass of DICOM Imaging Vendors, in addition to the yearly occurring IHE Connectathon. Within the relaxed IHE SHARAZONE, DICOM Objects can also be tested in an early production stage, which is a huge benefit for all, especially for the customers who can expect a high interoperability quality."

VISUS Health IT GmbH, Thorsten Conrad

"We participate in the IHE SHARAZONE because it provides an always-available, collaborative environment that provides us access to a variety of consumers who can evaluate our new DICOM objects and likewise, allows us to consume DICOM objects from new and unique products. This test platform is critical as new medical technologies are implementing modern and unique DICOM formats."

GE Healthcare Digital, Steve Nichols, Director of Interoperability
If you need access to real world DICOM images and other objects to test, join IHE SHARAZONE.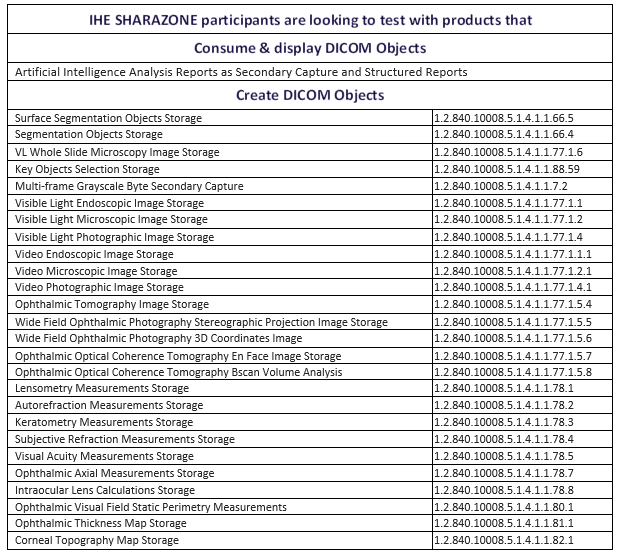 To participate to such testing, please contact: Secretariat@ihe-europe.net
_______________________________________________________________________________________
The registration has a simple pricing model based only on vendor size, with a lower fee for vendors making objects available for testing by consumer products. Each vendor can register as many products/versions as they want.
To get the registration contract, please contact
IHE-Europe Secretariat (Ms. Arianna Bellemo):
secretariat@ihe-europe.net
or
IHE SHARAZONE Moderator:
sharazone-admin@ihe-europe.net
SHARAZONE Gazelle capability: https://sharazone.ihe-europe.net/gazelle/home.seam. Note that you can request an account to get access to Gazelle only if your company is registered.